The noted poet Emily Dickinson lived all her life (1830 – 1886) in Amherst, Massachusetts. Yet from the windows of her bedroom in the family Homestead, she observed a world as vast as her imagination, creating almost 1,800 poems, many of them now considered among the greatest in the English language. Produced and edited by Ernest Urvater, and created under the auspices of the Emily Dickinson Museum.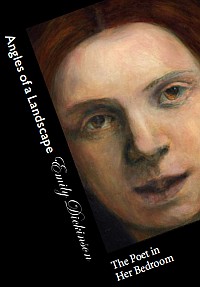 "I - The Poet in Her Bedroom," is the first volume of the television series "Angles of a Landscape: Perspectives on Emily Dickinson" which explores little-known aspects of Dickinson's life and work.


The DVD features a penetrating narration by Joni Denn from a script by Terry Y. Allen and superb videography by James MacAllister. Acclaimed pianist Estela Kersenbaum Olevsky performs a seldom heard musical score, Franz Liszt's transcription of Beethoven's song cycle "To the Distant Beloved."
32 minutes, ISBN = 978-0-943184-12-8 SRP1021 SRP1021

$14.95 plus $4.00 shipping.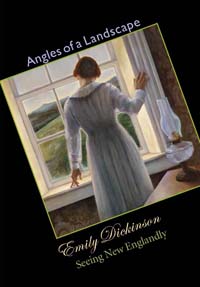 "II - Seeing New Englandly," the second program in the series "Angles of a Landscape: Perspectives on Emily Dickinson," explores the poet's education, her lifelong interest in science and literature, her fascination with polar exploration, and her response to the tragedy of the Civil War. The DVD explores also a time of despair for Dickinson: at the height of her poetic creativity she experienced serious trouble with her eyes that threatened her with blindness. The poems displayed within the film introduce us to her boundless New England vision, "numerous as space – But neighboring as Noon - ".

Written and narrated by the poet Susan Snively the program is lushly illustrated by the paintings of artists who, like Dickinson, explored the natural world through their work: Thomas Cole, Frederic Edwin Church, George Innes, John Kensett, Elbridge Kingsley, and other painters of the Hudson River and Luminist schools. The musical background includes works by Bach, Beethoven, Schubert, and Mendelssohn. 57 minutes SRP1022


$19.95 plus $4.00 shipping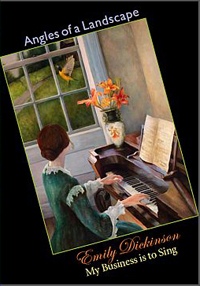 NEW RELEASE: "III - My Business is to Sing," explores how the music of Emily Dickinson's time gave life to her poetic voice. From early childhood, the poet played "moosic," took piano and singing lessons, and later improvised her own "weird and beautiful melodies" to entertain her family and friends. Using the meter and rhyme of hymns and ballads for her own artistic purposes, Dickinson expressed complex emotions, unconventional ideas, and remarkable images, in her revolutionary "songs." SRP1023

$19.95 plus $4.00 shipping.