Angles of a Landscape: Emily Dickinson -
The Poet in her Bedroom

Preview The Poet in Her Bedroom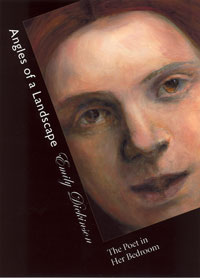 Now widely assigned to the first rank of American poets, Emily Dickinson (1830-1886) was unknown and unpublished in her lifetime. Since her death well over a century ago, nearly 1,800 of her lyric poems have been discovered, published, and translated into dozens of languages. The poet never married and eventually confined herself to her father's house and grounds. Nonetheless Dickinson lived a rich and immensely productive creative life.
The elegant Dickinson family Homestead on Main Street in Amherst, Massachusetts, the poet's home for most of her life, has become a pilgrimage site. Each year thousands of people from around the world come to the Emily Dickinson Museum to learn more about this extraordinary woman, who created the great body of her work behind a closed door, at a small table, in the privacy of her upstairs bedroom.
"The Poet in Her Bedroom," a 32-minute program, is the first volume of the television series "Angles of a Landscape: Perspectives on Emily Dickinson" which explores little-known aspects of Dickinson's life and work.
The DVD features a penetrating narration by Joni Denn from a script by Terry Y. Allen and superb videography by James MacAllister. Acclaimed pianist Estela Kersenbaum Olevsky performs a seldom heard musical score, Franz Liszt's transcription of Beethoven's song cycle "To the Distant Beloved."
"The Poet in Her Bedroom" was produced and edited by Ernest Urvater and created under the auspices of the Emily Dickinson Museum. It provides lovers of poetry with an inspired introduction to the work and world of one of the greatest of all English-language poets.
Quotes

"Lovely, lovely, lovely. Those were the best 32 minutes I've seen in a long time. I felt so peaceful sitting in my big seafoam green chair watching and listening to your creation. Now more than ever I must read some more of Emily's poetry." ---L.R. Berkeley CA

"I have just spent an enchanted morning viewing and re-viewing your Emily at the many angles of her landscape, and then picking up the small book of her poems that has been on a nearby table for a year, never I fear fully appreciated by me…I loved getting the feel of her garden, a family around, and her cooking of rich desserts; even understanding now why such a driven writer as Joyce Carole Oates rereads her poems once a year. Personally I find comfort and a certain democratic grounding effect in Emily's admission, "I dwell in possibility...." The rest of us call it hope. Thank you also for the visual beauty of your small gem, the simplicity of both the narrative and the narration, wonderful music and, in short, for this beginning episode of your masterpiece!"
---M.C. Grass Valley, CA

"What a genius she was. The video was excellent... good sound, color, variety with a very clear and compelling narrator. I loved seeing so much of the dress... and the comparison with Longfellow and Julia Ward Howe was very useful and revealing of Emily's extraordinary, completely unique sound, approach, word-use, and intention." ---S. S. Addison, ME

"Everyone was just enthralled with the film today--my friend who knows nothing re: Emily Dickinson, as she is a Japanologist, was so taken with it, and I loved seeing it again."
---S. F. Amherst, MA

Reviews

From Video Librarian
October 28, 2008 (Web Review)
"Angles of a Landscape: Emily Dickinson--The Poet in her Bedroom (2008) 32 min. DVD: $29.95. Emily Dickinson Museum (tel: 413-542-8161, web: www.emilydickinsonmuseum.org). PPR. ISBN: 978-0-943184-12-8. Most readers familiar with the poems of Emily Dickinson know of her reputation as a recluse. As narrator Joni Denn points out, "For reasons we don't understand, she gradually confined herself to her father's house and grounds" in Amherst, MA in her early 20s, where she stayed until she died at the age of 55. After her death, her sister found 1,800 poems Dickinson had written (only 10 were published during her lifetime, all without her permission). Starting on the sidewalk outside the handsome Dickinson house, the camera takes viewers into the home and up the staircase to the south-facing bedroom where Emily lived and wrote. Seeing the poet's personal effects-including her simple writing table-offers readers some insight into Dickinson's spare poetry, written at a time when ornamental Victorian verse (such as Longfellow's) was all the fashion. An interesting behind-the-scenes look at the working environment of one of America's greatest poets, this concise biography (created under the auspices of the Emily Dickinson Museum) is highly recommended. Aud: H, C, P. (R. Reagan)"
Angles of a Landscape: Emily Dickinson - The Poet in her Bedroom
ISBN = 978-0-943184-12-8
ITEM: SRP1021
Length: 32 minutes (DVD)
To order and pay by check, send name, address and check or money order for $14.95, plus $4.00 for shipping and handling to Sawmill River Productions at the address linked to below.
To pay with a credit card, please add the item to your Shopping Cart and you will be redirected to PayPal to complete the transaction.