Angles of a Landscape: Emily Dickinson -
Seeing New Englandly
Preview Seeing New Englandly Opening from Ernest Urvater on YouTube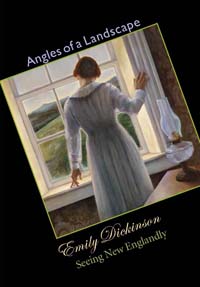 The poet Emily Dickinson lived all her life (1830 – 1886) in Amherst, Massachusetts. Yet from the large windows of her bedroom in the family Homestead, she observed a world as vast as her imagination, creating almost 1,800 poems, many of them now considered among the greatest in the English language. "I see New Englandly," she wrote, alert to the drama of the weather, the spectacles of the northern sky, the lives and deaths of the people around her, the natural world she shared with plants and animals, and also, events far beyond the horizon of her native town.
"Seeing New Englandly," the second program in the series "Angles of a Landscape: Perspectives on Emily Dickinson," explores the poet's education, her lifelong interest in science and literature, her fascination with polar exploration, and her response to the tragedy of the Civil War. The DVD explores also a time of despair for Dickinson: at the height of her poetic creativity she experienced serious trouble with her eyes that threatened her with blindness. The poems displayed within the film introduce us to her boundless New England vision, "numerous as space – But neighboring as Noon - ".
The program is lushly illustrated by the paintings of artists who, like Dickinson, explored the natural world through their work: Thomas Cole, Frederic Edwin Church, George Innes, John Kensett, Elbridge Kingsley, and other painters of the Hudson River and Luminist schools. The musical background includes works by Bach, Beethoven, Schubert, and Mendelssohn.
The 57-minute program was written and narrated by the poet Susan Snively, edited and produced by Ernest Urvater, and created under the auspices of the Emily Dickinson Museum.
II Angles of a Landscape: Emily Dickinson - Seeing New Englandly
ITEM: SRP1022
To order and pay by check, send name, address and check or money order for $19.95, plus $4.00 for shipping and handling to Sawmill River Productions at the address linked to below.
To pay with a credit card, please add the item to your Shopping Cart and you will be redirected to PayPal to complete the transaction..