Angles of a Landscape: Emily Dickinson -
My Business is to Sing
Preview of "My Business is to Sing" from Emily on My Mind on YouTube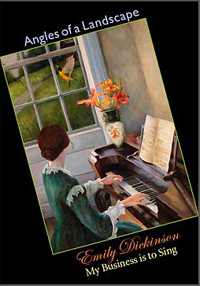 "My Business is to Sing" is the third program in the trilogy "Angles of a Landscape." It explores how the music of Emily Dickinson's time gave life to her poetic voice. From early childhood, the poet played music or "moosic," took piano and singing lessons, and later improvised her own "weird and beautiful melodies" to entertain her family and friends.
III. Angles of a Landscape: Emily Dickinson - My Business is to Sing
ITEM: SRP1021

To order and pay by check, send name, address and check or money order for $19.95, plus $4.00 for shipping and handling to Sawmill River Productions at the address below.
To pay with a credit card, please add the item to your Shopping Cart and you will be redirected to PayPal to complete the transaction.